"Celebrity Apprentice" 2012 spoilers for week 9 on April 15t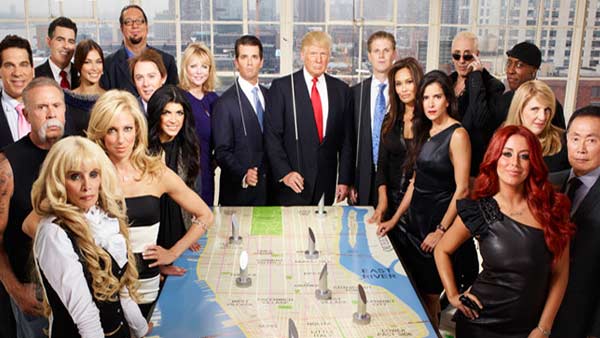 h is about Lisa Lampanelli and Paul Teutal, Sr. taking control as project managers. Lisa Lampanelli will have quite a time tearing Dayana Mendoza apart in the next challenge. According to Clay Aiken's spoilers for "Celebrity Apprentice" to air Sunday night, the episode entitled "Puppet Up!" will have more drama again. Teams Forte and Unanimous will create their own puppets take part in Jim Henson's Alternative's "Stuffed and Unstrung" improv show.
Here's what Clay Aiken said regarding the "Celebrity Apprentice" spoilers:
"Next week brings another twist and split that I'm not that happy about! And, if you think you've seen shouting and tears in previous episodes… you ain't seen NOTHING like what happens next week. I think Lisa bursts a blood vessel, and Dayana is even hotter when she cries!!"
Clay will be switched to Forte with Lisa, Dayana, and Penn Jillette. He'll be witness to some pretty extreme drama between Lisa and Dayana.
Donald Trump teased that the the honeymoon is "over" between the two women. In week 8 Lisa had some nice things to say about Dayana, which was a first. In "Celebrity Apprentice" previews, Lisa can be heard yelling at Dayana that again the team has to find something for her to do.
Who goes in the boardroom to face Trump in week 9? Other spoilers indicate team Unanimous will do well on the show — consisting of Aubrey O'Day, Arsenio Hall, and Teresa Giudice. Will it come down between Lisa and Dayana plus Penn? Nothing has been spoiled when it comes to Paul Teutal, Sr.. He's the quiet one no one ever picks on, but he had a hard time as project manager when it comes to the creative areas. It's hard to picture Clay Aiken going to the boardroom since he's been the most respected player all along on "Celebrity Apprentice" 2012. He's managed to stay out of the backstabbing drama, which is pretty hard to do on this show.
Week 9 of "Celebrity Apprentice" 2012 airs Sunday, April 15th at 9:00 p.m., ET/PT on NBC.